B2 Sensor Installation Instructions
Use these instructions to add a SmartSense B2 Sensor to an existing SmartSense environment.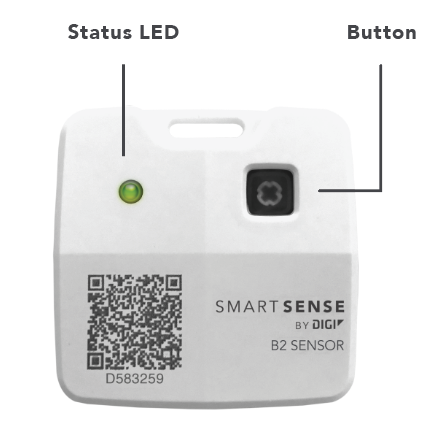 This tutorial focuses on adding a B2 Sensor to an existing environment. Please see the Kitchen Self-Installation Guide or Grocery Self-Installation Guide for more complete installation instructions.

This tutorial also assumes that your B2 Sensor has already been provisioned in your account. If it has not you will need to contact SmartSense support.


Your SmartSense B2 Sensor arrives powered off.
To turn your B2 Sensor on, hold the button for approximately 3 seconds until the green LED begins to blink and immediately release it.
The green LED will remain on for 5 seconds to indicate that it is powered on and broadcasting.
Under normal operation, these are the only times the LED will illuminate.
Once your B2 Sensor is powered on, it cannot be turned off.
SmartSense recommends installing the Sensor according to the FDA model food code guidance and placing it "in a location that is representative of the actual storage temperature of the unit" away from any compressors or fans.
Use the included zip tie to mount the B2 Sensor. The zip tie should be threaded through the mounting loop at the top of the Sensor and attached securely to a mounting point so that the Sensor is hanging vertically and facing toward the door of your case.
If a suitable mounting point does not exist,

 

contact SmartSense

 

for additional mounting options.


Verify that your B2 Sensor is reporting
It is best practice to confirm that the new B2 Sensor is communicating. If you do not have a login with Super Admin or Admin permissions ask a colleague to perform this check. Choose the instructions for your program dashboard.


Instructions for SmartSense
Visit

 

app.smartsense.co
Enter your credentials then click the LOG IN button
Select the ADMIN tab then click on SYSTEM MANAGEMENT. Navigate to the UNASSIGNED SENSORS Sensors tab.
Search for your B2 Sensor by entering the Sensor ID in the SEARCH field. The Sensor ID is found on the front of the Sensor (search requires full Sensor ID).
When the B2 Sensor is communicating successfully, the LAST ACTIVITY column should display a date and time. This confirms that your new B2 Sensor is communicating as expected. See How to Assign Sensors to complete the installation.

Instructions for SmartSense Cold Chain
 Visit

 

login.digicoldchain.com
 Enter your credentials
 Select SENSORS
 Locate your B2 Sensor using the  Sensor ID on the front of the Sensor
 When the B2 Sensor is communicating successfully, the DATE AGE column will display a time in hours and minutes. This confirms that your new B2 Sensor is communicating as expected. 


Cleaning Instructions
To clean the B2 Sensor, use a damp cloth with mild detergent to wipe the device.


Caution: Risk of fire and burns. Do not recharge, disassemble, heat above (manufacturer's specified temperature), or incinerate. Keep the battery out of reach of children and in its original package until ready to use. Dispose of used batteries promptly.
CALIFORNIA PROPOSITION 65 WARNING:

This device is only intended for use as outlined in these installation instructions. The sensor contains
built-in safeguards to prevent failure but is not designed for extreme environments and should not
be tampered with or modified. Failure to follow these instructions will result in protection impairment and loss of functionality and may cause serious injury and/or loss of life.

This device is intended for inside, dry location use and is not intended to be installed in an area subjected to water spray. Manufacturing test data indicates that this device will maintain normal functionality after being submerged under one meter of water for 30 minutes. These statements have not been independently verified by a laboratory. The device is not intended for servicing in the field. This means that it should not be opened or disassembled by anyone other than the SmartSense Engineering team. Do not open or disassemble!

DIGI INTERNATIONAL
9350 Excelsior Blvd. Suite 700
Hopkins, MN 55343


PHONE: 952-912-3444